Stop tricking yourself into thinking that activity equals results.
Connection Flywheel gives you a realistic view of where you are at in the client pursuit process, using The Connection Process methodology as your guide:
Accurate executive pipeline assessment
Quality intelligence that shows how your impact connects to the client's business and political issues
Focus on leading indicators (multiple paths to connection with the company, # of unsolicited proposal requests) vs. lagging indicators (i.e. # of phone calls, # of meetings)
The smart Connection Flywheel dashboard gives you a realistic view of your progress and enables team collaboration: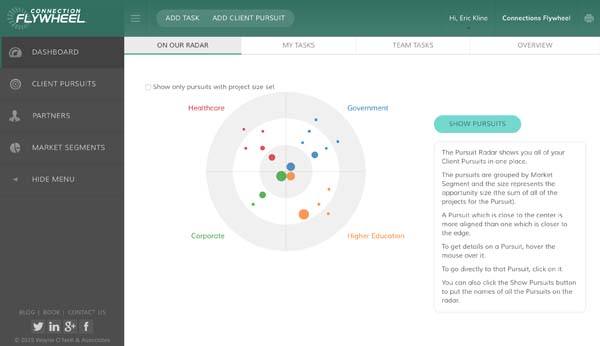 The first thing you see when you open the Connection Flywheel tool is a bird's eye view of your business development progress.
On Our Radar shows you how close you are to a client relationship. The closer the dot is to the center radar screen, the closer you are to success.
Executives love this view because they can see the next "pieces of business" that will drive revenue growth for their firm.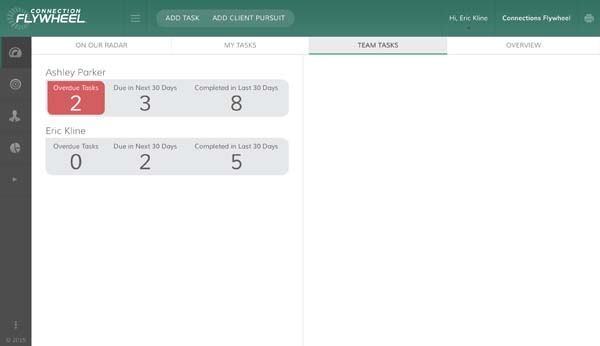 The other dashboard tabs are built around task management; not for the purpose of finger-pointing and follow-up, but with a focus on teamwork and collaboration.
My Tasks keeps track of the tasks you need to complete, the tasks you've already completed, and critical items you are getting behind on.
Team Tasks enables you to collaborate in real-time with coworkers.
The Overview tab gives you a bird's-eye view of all your client pursuits and your overall progress.
The Connection Flywheel includes 5 modules that help you grow your business intelligently:
Grow your business intelligently with the Connection Flywheel.
This is not a CRM (customer relationship management) tool. Connection Flywheel is a mirror that reflects the activities you are doing to develop accounts.
It's a project management tool that helps you work through the The Connection Process strategically, in a streamlined and easily manageable way.
This is the best tool to grow your business using The Connection Process.
Stop tricking yourself into thinking that activity equals impact. Get a realistic view of what activities you and your team are doing that are actually impacting revenue growth – so you can stop wasting time on activities that get you nowhere.
Connection Flywheel is an interactive guide that makes you focus on the right pieces of information at the right times.